Blue essential oil rich in Camazulene,
with anti-inflammatory properties.
Yarrow is a perennial herb of the Asteraceae family. The oil is pressed after the white flowers bloom, and during distillation, an active component called Camazulene is released. This is the secret to the vivid indigo color of the oil and its anti-inflammatory properties. The herb is native to Europe but is now cultivated in North America and Africa. In Greek, the word "yarrow" means "healing". Ancient Greek soldiers used yarrow oil to treat wounds because of their hemostatic properties.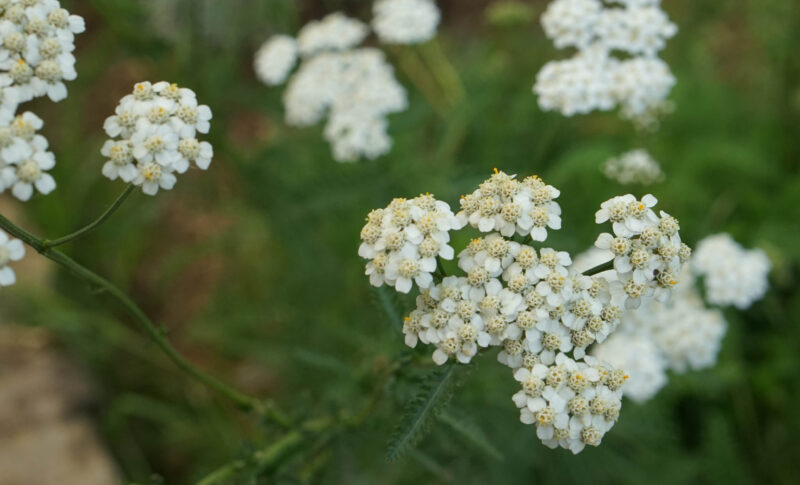 Product Profile
INCI :

Achillea Millefolium Oil

Origin:

South Africa

Production method:

Steam distillation

Aroma:

Strong, Fresh green, sweet herbaceous

Part of plant:

Flowers, Leaves, Stems
Characteristics & Benefits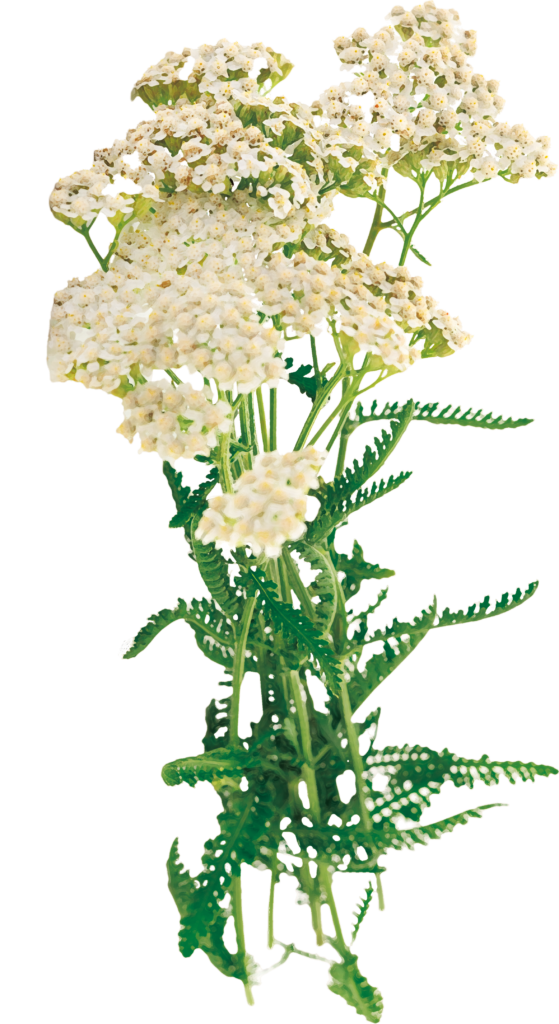 This oil contains a high amount of a blue active component called "Camazulene". It has anti-inflammatory, anti-allergic, and anti-histaminic effects and effectively heals inflamed wounds, burns, and skin rashes. Native Americans used the oil to cure insect bites. It also works to alleviate allergic symptoms such as hay fever. Studies indicate that Yarrow oil regulates sebum and promotes hair growth as well, so it is often used for oily skin and in scalp care products.
Evidence Data 1: Acne prevention and pore reduction effects
An efficacy study reveals the inhibition of acne bacteria growth (MIC 0.83mg/ml*) and staphylococci (MIC 0.37mg/ml) after using Yarrow essential oils. This is linked to the anti-inflammation effect by cytokinine as well as the free-radical inhibition property of the oil. The comprehensive effect of these properties contributes to the prevention and treatment of acne. Another in-vivo efficacy study of applying the yarrow plant extract for 2 months indicated that pores became less noticeable in comparison to the placebo.
※MIC=minimum inhibitory concentration
source:Bela Peethambaran "Anti-inflammatory and Anti-microbial Properties of Achillea millefolium in Acne Treatment" (2018)
Pain S, Altobelli C, Boher A, Cittadini L, Favre-Mercuret M, Gaillard C, et al. Sur-face rejuvenating effect of Achillea millefolium extract. Int J Cosmet Sci. 2011;33: 535‒42.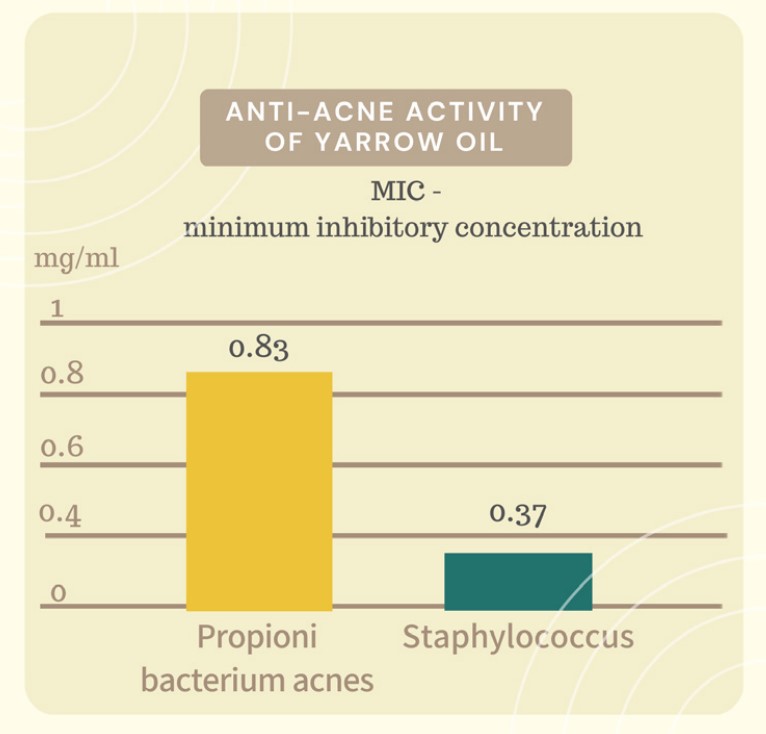 Evidence data 2 : Hair Growth Effect
120 subjects with symptoms of hair loss applied herbal extracts containing yarrow to their scalp for 6 months. Over 15% of a difference in hair loss and hair growth in comparison to the placebo group was observed. Excessive sebum secretion in hair follicles results in the accumulation of oxidative substances, consequently leading to hair loss. Camazulene and polypropylene in the oil function to prevent this cycle from happening.
source:Erkin Pekmezci, Cihat Dündar, Murat Türkoglu " A proprietary herbal extract against hair loss in androgenetic alopecia and telogen effluvium: a placebo-controlled, single-blind, clinical-instrumental study " (2018)
Traceability ~ About the Producers
The producer of this product is a family of farmers who have been working to manufacture natural essential oils in South Africa since the 1600s. Their farm is located in the highlands near the Kingdom of Lesotho and is blessed with a cool climate. In their second generation of essential oil production, this family works together to produce about 9 types of essential oils and dedicates their life to producing high-quality organic essential oils.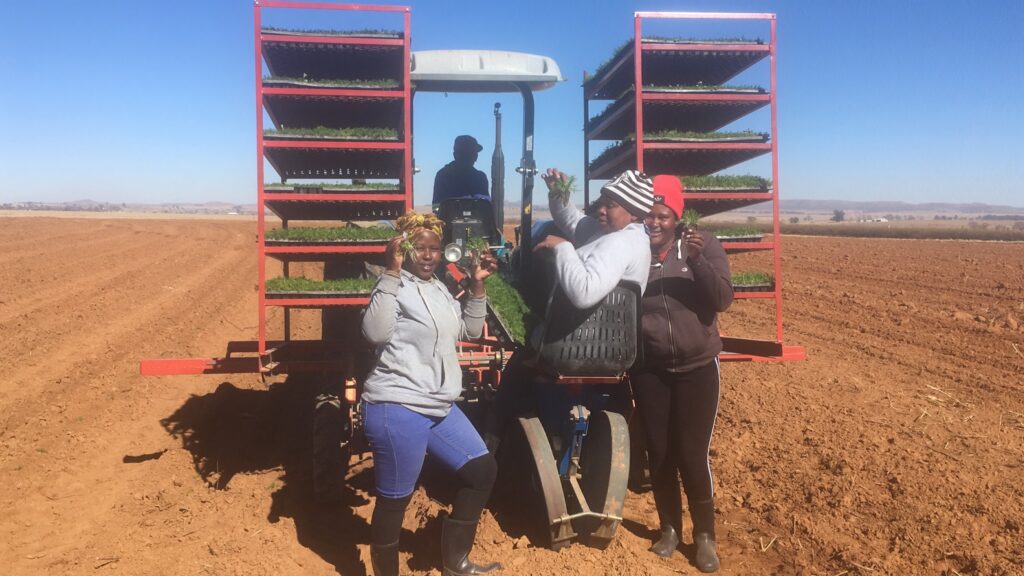 Examples of Product Application
●Lotions, milky lotions
●Face creams
●Body lotions/milks
●Perfumes
●Facial masks, etc.