Enhancing skin firmness and elasticity.
Anti-inflammatory properties keep healthy skin.
Kigelia Africana, the large tree occurs across the African continent. It has been traditionally used for breast firming in central Africa and is said to have aphrodisiac properties. Its traditional medicinal applications include the treatment of eczema, fungal infections, and boils
Product Profile
INCI:

Kigelia Africana Fruit Extract (&) 1,3-Propanediol (&) Water

Origin:

South Africa

Production method:

Maceration

pH Range:

4.5 ~ 6.5

Use level:

2~5%

Relative density:

1.0 ~ 1.2 (gml)
Characteristics & Benefits
The fruit contains rich iridoido (in a form of Verminoside), naphthoquinones, flavonoids, terpens, and phenylethanoglycosides. The skin-firming capacity has been shown in independent trials. Kigelia Africana contains Verminoside which confers anti-inflammatory activity and anti-inceptive activity with very low toxicity (LD50 or 1.3g/Kg).
Efficacy Study1 : Skin elasticity and firmness in 28 days
Period       28 days
Age          36 ~ 64 years (average 48.7 years)
Subjects   20 Caucasian women (applied twice daily)
Kigafirm fruit extract was applied to the inner arms of the subjects to assess the skin firmness and elasticity. After 14 days, skin firmness improved by 8.0% and skin elasticity by 6.4%. After 28 days, skin firmness improved by 13.1% and skin elasticity by 9.8%. The difference was statistically significant in both firmness and elasticity.
Source:Efficacy Test Conducted With "Kigafirm" , Derma Consult Concept GmbH 2017, Germany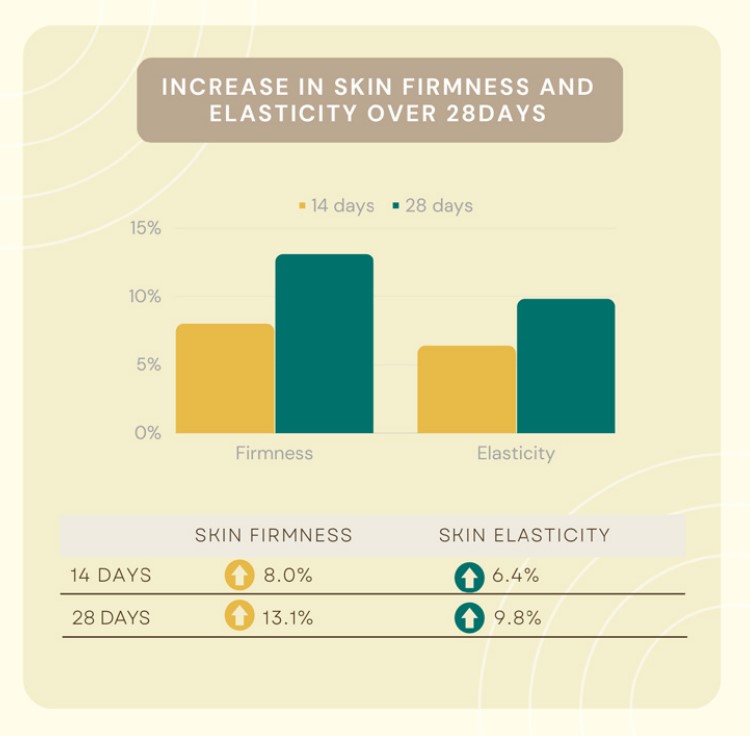 Evidence data 2 : Anti-inflammatory and Inhibition effect
Verminoside (a type of iridoid), the key component of this extract, contains polyphenols including Verminoside. An in-vitro study by Picarno (2005) demonstrated that the Verminoside effectively inhibited LPS-induced J774.A1 macrophages. The study also confirmed its significant anti-inflammatory effects by inhibiting both iNOS appearance and NO release in the LPS-induced J774.A1 macrophage cells. Verminoside has been shown to inhibit enzymes involved in inflammation by up to 83% at very low concentrations.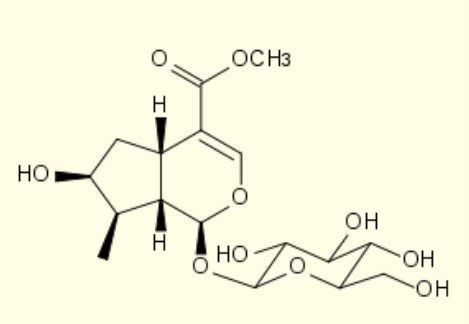 Source:Anti-infammatory activity of verminoside from Kigelia africana and evelution of cutaneous irritation in cell cultures and reconstituted human epidermis, Patrizia Picerno et al. J Nat Prod. 2005. Nov
Traceability ~About the Producers
This botanical extract is manufactured through the African community trust of the Dakeni village' s medicinal and cosmetic plant gardening project. The trust owns 32% of the company share, which covers the employment of rural women and dividends to be sent into community development projects. The vast wilderness of Dakeni enables organic farming free of pollution. The manufacturer is committed to maintaining the production value chain at the community level to achieve first-class traceability.
Examples of Product Application
■Breast care
■Hip Care
■Neck/ Décolleté care
■Serums
■Eye cream
■Body butter
■Liquid cleansing, etc.